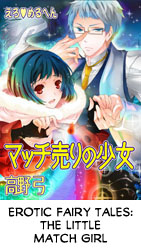 Here's the last chapter of The Little Match Girl! Yay!
We'll now go back to working on the Little Mermaid since we left everyone off at such a dramatic spot in the story. It doesn't get better cliff hanger wise either.
I also wanted to mention that the second volume of Chichikogusa is coming out next month! I have been delaying the release of chapter 6 because it's the last chapter of volume 1. I wanted to get the physical volume of 2 before releasing chapter 7 since I want to include the jacket cover and all extra comics along side the chapters. So I will be placing an order for volume 2 in the near future.
Please enjoy today's release!
Erotic Fairy Tales: The Little Match Girl Vol 1 Chpt 4 – Read Online
Erotic Fairy Tales: The Little Match Girl Vol 1 Chpt 4 – Download