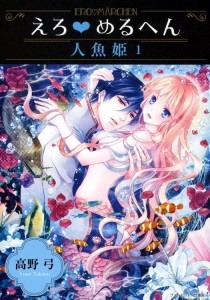 Yay! I received my copy of the Little Mermaid a few days ago and I must say it's rather small. Haha it's pocket book sized. The paper used is nice, thick, and white not grey like most manga pages. Oh man and chapter 3 of Black was very amusing although I am cringing at the thought of redrawing one of the pages.
Sera, the priest from Match Girl, was bored and rummaged around and found a pretty compact. Well it apparently turned him into a pretty girl. There were also 3 omake at the end related to The Little Mermaid story along with an authors note. They will be release once my husband finishes translating them.
Please support the mangaka and buy a copy!
Yes we do plan on doing Black, give us time. We have other projects that need some love too. Releases may be slow because I fell, twisted, and pulled some tendons in my right ankle when I was trying to get my youngest son out of an indoor play structure so I've been hoping around with one leg and resting it. I also heard a crack when I fell but thankfully I didn't break any bones.
I also got the script for the next chapter of Gou from KyraKyra. So please look forward to chapter 6 in the near future! Many thanks to KyraKyra for helping out. She's also working on chapter 7 of Gou right now too. Yay~
Erotic Fairy Tales: The Little Mermaid Vol 6 Chpt 12 – Read Online
Erotic Fairy Tales: The Little Mermaid Vol 6 Chpt 12 – Download