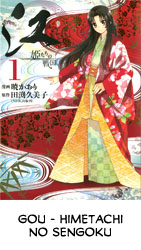 Yay here's this weeks release! Sorry it's a little late. A relative was visiting so I didn't have much time to QC it.
A wonderful lady has stepped up to help with translating a few chapters of Gou for us! She's currently working on chapter 7! Please thank her for her hard work! This chapter of Gou is so footnote heavy that it probably took a lot of time for her to translate it. Thank you so much Kyrakyra! A big thanks goes towards Neith for lettering this chapter for us too!
I'm hoping to get out Virgin Ripper next week! Things have been a little chaotic here and will continue to be for the next few weeks.
Gou – Himetachi no Sengoku Vol 02 Chpt 6 – Read Online
Gou – Himetachi no Sengoku Vol 02 Chpt 6 – Download