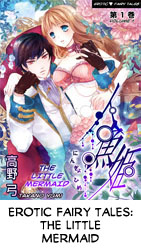 I'd like to thank those who didn't ask when is the next chapter/volume coming out, etc. Please ask questions on our F.A.Q. page.
When is volume 8 coming out? We think maybe June or July.
When is chapter 14 being released? A month or so from now.
Why so long? Because this gives less wait time between chapters. Volume 8 is not out yet and we don't know for certain when it will. When we do get it I'll have to clean and do a ton of redrawing. The redraws are pretty brutal at times and takes awhile. Plus we have other titles we want to release too.
How many volumes are there? I have no idea. It's not finished in Japan. We get the chapters as soon as Japan releases them. But as a guess I'm assuming maybe 12 ebook volumes (We're at 7 so maybe 5 more). Only because her physical volume release has 6 ebook volumes. So she may be trying to get another physical volume 2 out to complete with volume 1. Would be silly not to have enough chapters for a physical volume release of chapter 13+ unless she makes a filler chapter like Black. Which she may or may not do.
I have a project status to the right of the site and I keep the projects page pretty up-to-date. Be sure to check other posts, your question may have already been answered.
We try to release 1 chapter a week so I hope to release these chapters in the next few weeks:
Why Not Be My Dog Chapter 1
Kikimimi Zukan Chapter 6
Thinking about taking a week break~ Ooooh~
Chichikogusa Volume 1 bonus material
Little Mermaid Chapter 14
Erotic Fairy Tales: The Little Mermaid Vol 7 Chpt 13 – Read Online
Erotic Fairy Tales: The Little Mermaid Vol 7 Chpt 13 – Download