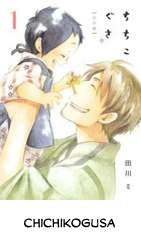 This marks the end of the first volume of Chichikogusa! Bunch of little one-shot style pages about the past and such. So it's a cute read! We'll start getting volume 2 ready. Since I have the second volume I can set up the chapters with the table of contents and everything. Yay~
I would also like to congratulate Tagawa Mi on the arrival of her little one! She went on a two-three month hiatus and will be continuing Chichikogusa next month. Please be sure to purchase a copy of Chichikogusa if you want to support the mangaka!
They can be bought here: (they are in Japanese)
Volume 1
Volume 2
Next release should be Little Mermaid.
Chichikogusa Vol 01 Extras – Read Online
Chichikogusa Vol 01 Extras – Download