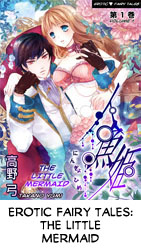 I know a lot of people have been both patient and impatient about the newest chapter so here it is! Volume 9 was released earlier this month and I plan on buying the EBJ version once it becomes available.
You can view a sample of volume 9 on Renta. Just click the grey button next to volume 9. Before the two buttons that have a 1 and 2 in it. Those are the ticket prices you buy tickets and can purchase the volume for either 48 hrs for 1 ticket or permanently for 2 tickets.
Enjoy today's release!
Plan of releases are:
Gou chpt 7
The Little Mermaid chpt 16
Chichikogusa chpt 9
Virgin Ripper chpt 19
Erotic Fairy Tales: The Little Mermaid Vol 8 Chpt 15 – Read Online
Erotic Fairy Tales: The Little Mermaid Vol 8 Chpt 15 – Download