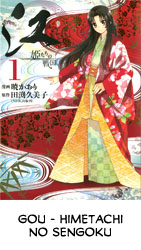 Wooo a new chapter of Gou!
There's an extra omake left in volume 2 then we'll be going onto volume 3!
Did I forget to mention I was able to translate some of the pages? Of course Thestripedone goes over my translations and changes them to his liking…. Booo… Not like they were wrong he just makes them sound better. Damn English Majors.
Anyways! Plan of releases are:
Chichikogusa chpt 9
The Little Mermaid chpt 17
Virgin Ripper chpt 19
Gou – Himetachi no Sengoku Vol 02 Chpt 7 – Read Online
Gou – Himetachi no Sengoku Vol 02 Chpt 7 – Download