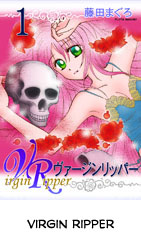 Phew! Been releasing a few extra chapters this month! This is like the 6th release this month!
We're going to release a new title in a few days. It's by the mangaka of Chichikogusa. I'm assuming Chichikogusa is going to end at the 3rd volume or soonish. I can't really imagine Tagawa Mi being able to juggle two titles and two little ones at the same time. But who knows maybe she's that awesome! Her newest title wont have much priority compared to our other current titles.
Our wonderful Yuki is currently lettering the next chapter of The Little Mermaid! Thestripedone went ahead and translated the chapter for me, yay! So we hope to get it out next week. Pondering how many other chapters I can squeeze out of him before the month is over…
Enjoy today's release of Hikari struggling into accepting that the Commander may have had a lover or two but a hundred?!
Virgin Ripper Vol 6 Chpt 19 – Read Online
Virgin Ripper Vol 6 Chpt 19 – Download