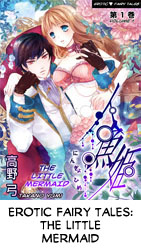 Weeee! Have fun with this chapter or not! Volume 11 of Little Mermaid is completely clean and translated and already sent off to our wonderful Yuki! Who is currently lettering the chapters.
I no longer know if the series is going to end at volume 12 as it seems to be taking a different turn in events in volume 11.
We shall also start the voting for next years titles today. It's a few days early but everyone has until the end of December to vote on the title they would like us to work on!
Edit: Sorry to those who already voted. I had to change the poll because the other one allowed multiple votes.
Erotic Fairy Tales: The Little Mermaid Vol 10 Chpt 20 – Read Online
Erotic Fairy Tales: The Little Mermaid Vol 10 Chpt 20 – Download