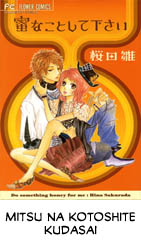 Yay a release today!
This one is rather sweet and age appropriate for anyone and of course funny. No smut in this chapter! Only one more chapter left!
Just a reminder we will not be doing Mitsugoku Marriage by Yueko it was already being done by a company in English. You can purchase it on Renta's English site. I did decide to do Rengoku Kitan – S-kei Kishi to Inmitsu no Chikai  in replace of it.
Some of you know that Takano Yumi is going to release a new chapter of Red Riding Hood. I don't know when but you can read more at her SITE. Just use Chrome or some other browser that will translate the page for you. The translator is not great but it should give you a vague idea of what's being talked about.
Mitsu na Kotoshite Kudasai Chpt 2 – Read Online
Mitsu na Kotoshite Kudasai Chpt 2 – Download