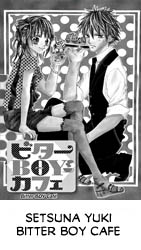 This is a oneshot that I went and offered to joint.
The End already had this chapter translated and it was the last chapter in the manga. They were waiting for a letterer to come by and help them. So please go visit them and thank them for providing the raws and translations for this sweet oneshot!
They're a group dedicated to finishing titles that have been abandoned.
Setsuna Yuki  – Bitter Boy Cafe – chpt 5 – Read Online
Setsuna Yuki  – Bitter Boy Cafe – chpt 5 – Download