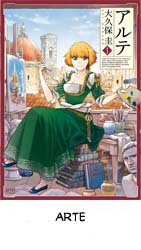 Oh Arte! I was soooo looking forward to working on you! Seriously… I already have the manga being mailed to me from Japan; but alas you were picked up by a Japanese company and being translated in English and released by them! I wish this manga the best of luck! It's truly a gem! There's even age gap romance… mostly from Arte! Hehe!
You can read the first chapter in English HERE. Be sure to vote for it so it gets released more often!
As such we will not be working on this title in respect for the legal English releases! Please support the mangaka! I believe the first volume was actually released in France last month too! In French of course.