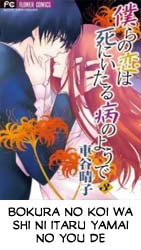 Getting though this quickly! Mwahahaha!
Also on a side note if there's any readers that can donate a few dollars that would be wonderful! I went ahead and bought Chichikogusa volume 4, The Cradle of the Sea, and The Little Mermaid Vol 16 out of my pocket which is perfectly fine but I figured I'd ask in case anyone wants to chip in a save my wallet a little. There's nothing I need to buy right now until next month for the next Mermaid. =) Pretty much anything from Ads goes to the web hosting which is like $140 a year or something. It takes about a year to accumulate even $100 for us. Hahaha….
Anyways thanks for reading!
Bokura no Koi Vol 3 Part 2– Read Online
Bokura no Koi Vol 3 Part 2 – Download