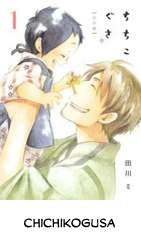 Here we are with the first chapter into volume 5 of Chichikogusa! Again Ferdverel has taken over translating this series for us since she's a fan of the manga! So please be sure to thank her for her hard work! She'll be busy also for the next few weeks like us so she wont have time to translate.
Also I just found out that Tagawa Mi actually did a one-shot back in 2009! I got a hold of the group that owned the raws and they gave me permission to work on it! Woot! It's a pity that she doesn't list her past works anywhere on her site or twitter that I can find.
Otherwise please enjoy!
Antisense is now away on vacation until mid-July!
Chichikogusa Vol 05 Chpt 25 – Read Online
Chichikogusa Vol 05 Chpt 25 – Download