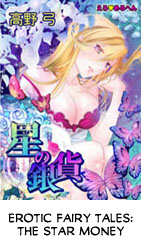 Yeah this was a pretty short series compared to some of the other Fairy Tales. Figured people would like something short since Mermaid has been such a long series.
I plan on getting Little Mermaid out next month because Thestripedone is taking this month off on translating. He translated a bunch of chapters last month for me so he deserves it.
Little Mermaid is not out  yet but it seems the cover for volume 8 will be the same as volume 7. I guess it's because she has been super busy with the light novel illustrations and her BL titles.
Erotic Fairy Tales: The Star Money Vol 1 Chpt 2 – Read Online
Erotic Fairy Tales: The Star Money Vol 1 Chpt 2 – Download