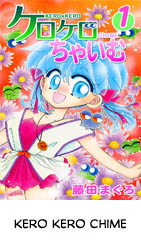 Here's chapter 4 of Kero Kero! The weather has been hot and blaaah. So our brains have been sluggish. Doesn't help that we're packing everything to move into our house mid next month.
Kyrakyra, our helping translator for Gou has been busy so Thestripedone will be our only translator again. I would like to thank her for helping as much as she could before real life started to kick in.
I do plan on having him translate a chapter of Gou for next month along Virgin Ripper, Black, and Chichikogusa along with whatever else I can get him to translate.
Kero Kero Chime Vol 1 Chpt 4 – Read Online
Kero Kero Chime Vol 1 Chpt 4 – Download