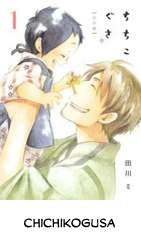 Waaaah! Poor Shirou! But yay for more scene time for Tora's co-workers!
Tagawa Mi has mentioned that volume 3 of Chichikogusa will be released in January! So I will be pre-ordering it for the omake and stuff! We should be done or close to done with volume 2 once we get volume 3!
Edit: Sorry I was notified that the last few pages were missing in the reader. They're all up now.
Chichikogusa Vol 02 Chpt 10 – Read Online
Chichikogusa Vol 02 Chpt 10 – Download