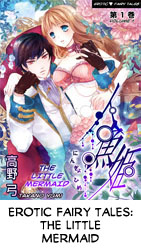 I must say the story is turning out more fun. And J that demon. XD Bwahahahaha! You'll understand once you read about the 'curse'… Pff~!
Volume 12 is not out yet on EBJ or Renta. It is available on one other site but it wont let me install the reader and the quality is not as good. It's decent but meh. I'll just wait for it to release in EBJ.
Please look forward to a release on Mitsu na Kotoshite Kudasai! I'm lettering the first part right now! So it'll be released in a few days.
Erotic Fairy Tales: The Little Mermaid Vol 11 Chpt 22 – Read Online
Erotic Fairy Tales: The Little Mermaid Vol 11 Chpt 22 – Download