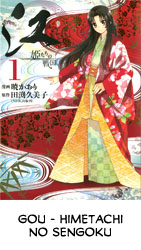 After 5 years we have officially finished this title. I am so sorry it took us this long to finish it. A lot of things have happened during those few years and it's been pretty crazy with having kids, to moving a few times, and just wow…
Thank you to those who waited so patiently for this series to end. This was the second title we picked up when we first started this group and I hope to finish Virgin Ripper this year as well as a few other titles!
Please enjoy this final chapter of Gou.
Gou – Himetachi no Sengoku Vol 05 Final – Read Online
Gou – Himetachi no Sengoku Vol 05 Final – Download